The OSU Spirit
This is the spirit of the Osan people who are preparing for a brighter future. A general junior University established under the principles of devotion, creation, and cooperation, Osan University gathers youth with excellent talents and a determination to study and helps them build lofty character, pursue profound learning, and cultivate outstanding abilities. Osan University educates competent people who devote themselves to the enhancement of human culture and contribute to the development of the nation so as to realize the noble ideals of young students.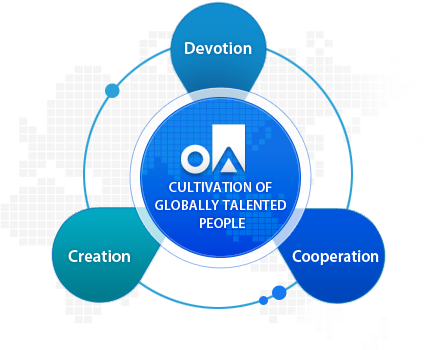 University Principles
Osan University was established under the principles of devotion, creativity, and cooperation. Young talented and motivated people are gathered here in their passionate quest for learning. The university focuses on teaching these competent people to devote themselves to society and contribute toward community needs.
Purpose of Education
Osan University aims to teach professional theories and train practical expert skills that are necessary for the nation's industrial growth.
Educational Policies
Students at Osan University…
1. Learn to be devoted through patience and hard work
2. Learn to be creative and innovative by expanding their thoughts
3. Learn to be cooperative through thoughtful consideration and communicating with others